Today, home design can be summed up as a clean, uncluttered look with warm neutrals and plenty of texture. As a realtor, I tour many homes and watch the reaction of many buyers as they walk through spaces. Nearly everyone will tell me they'd prefer to have an "updated" home and are willing to pay more for it. As I've been in many show homes, new construction, and remodeled homes, here are the trends I've noticed over the last few months that I expect to carry us through 2022: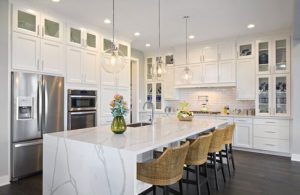 1.The color white
Many people see the color white and think no way, but there are many reasons why white is the best choice to add throughout your home. From walls and trim, to bedding, and to the kitchen, the color white brings you versatility, letting you change your style up or bring in pops of color and texture without changing big items every time. White also makes your rooms look bigger & brighter! Choosing the perfect tone of white can be challenging, so make sure you sample several colors and view them in your space before making a choice.
Pro Tip: If you're painting your house this year, don't use gray.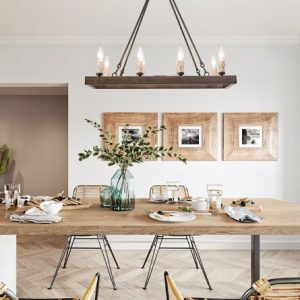 2. Warm wood accents
Wood is a highly distinguished element when added to an interior space. Bringing comfort, warmth, and natural beauty inside is why people love it so much. Wood can be incorporated into just about any style, including modern, rustic, and vintage. Adding reclaimed beams to high ceilings can make the space feel more intimate. Wooden light fixtures have become a significant trend because they are easily incorporated into most areas, are sustainable, and offer an organic look—the highly flexible material pairs beautifully with everything from marble to concrete to metal and glass.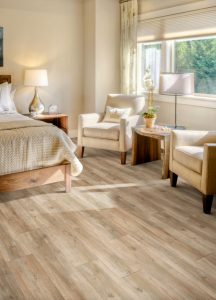 3. Light-colored floors
These days people are opting out of the dark color wood options. Light-colored floors are overall easier to clean. They hide dirt and scuffs better, making them easier to maintain. That means less need to break out the broom or shake your head over marks and scrapes.  Lighter wood has a way of making a room feel bigger and airier by accentuating natural light.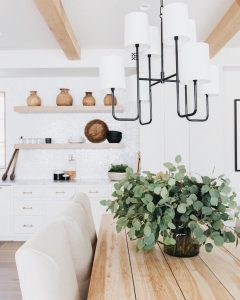 4. Plants
Many low-maintenance plants thrive indoors, like ZZ Plant, Snake Plants, Staghorn Fern, and many more. Did you know that aside from the aesthetics, there are other more significant reasons to add plants to your home? Plants clean and purify the air and reduce stress creating a healthier living environment.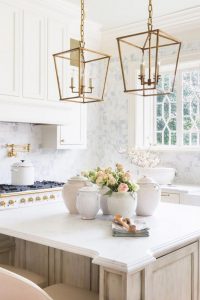 5. Gold/brass hardware and fixtures
If you haven't already noticed, gold or brass fixtures and hardware are back in style, and it's a trend I jumped on with my newly remodeled kitchen. Gold provides warmth, sophistication, and elegance to any room.(delete this part because I'm seeing all colors: and these days, it has a brushed finish, not a "brassy" one).  Changing hardware is an easy and inexpensive way to accessorize and update any room in your home. Maybe it is time to change your mind about using brass and gold in your home.  As far as I can see, the subdued brass and brushed gold fixtures trend is not going anywhere!
If you're ready to remodel, keep these trends in mind to look current and appealing. As I always say, keep your home updated while you're living in it! Please don't wait until it's time to move to invest thousands to make it look current. Call me anytime you'd like some advice on how to best update your home with resale in mind!